Twitter hours (Or should we be now calling them "X" Hours?)
Heard of them?
In today's business landscape, Twitter (X) hours can be a highly effective and lucrative component of your business' social media strategy. They are a sixty-minute window on Twitter  where anybody who uses a specified hashtag can converse about their views and thoughts based on said hashtag.  To create even more incentive to use your hashtag, businesses will often offer a prize as well.  Sponsoring a local Twitter hour can prove to be a great option as part of your social media strategy to grow your business.
At Mallusk Enterprise Park, we recently sponsored a local Twitter hour known as 'Belfast Hour'  which takes place every Thursday night between 9pm and 10pm as we wished to showcase our new workspace facilities in Mallusk Enterprise Hub.
We chose to use the Hashtag #MeetAtMallusk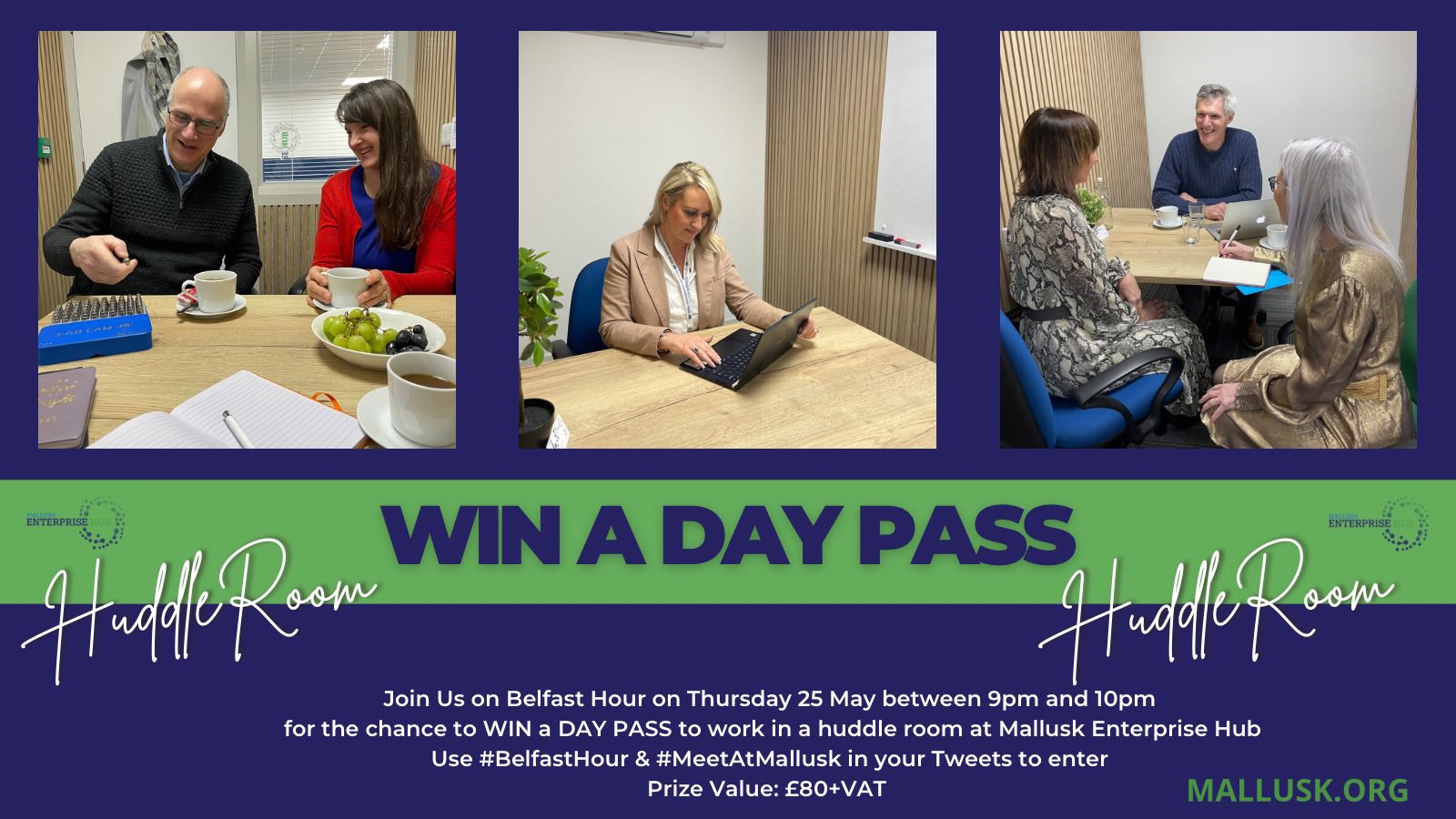 But there's a lot more to it than simply picking a hashtag.
Through our experience, we learned various key lessons, from which we have selected our top ten.
Ready to learn how your business can take the next step in Twitter marketing?
Great!
Then read on to find out more.
1. Know Your Objectives
What are your goals for the Twitter hour?
What is your ideal outcome?
Are you hoping to increase brand awareness, drive more website traffic, gain followers, or engage with your existing audience?
Whatever you hope to achieve through sponsoring a Twitter hour such as Belfast Hour, you need to clearly define your goal before planning out your Twitter Hour action steps.
2. Choose The Right Hashtag
Just like your business, your hashtag must be unique and relevant.
Align your hashtag with your brand or the topic your business wants to focus on throughout the hour.
It's also crucial to research existing hashtags to ensure your chosen option isn't already in use or associated with something unintended.
3. Plan And Promote in Advance
A Twitter hour may only last 60 minutes.
But you're working, and preparation starts long before this.
Create excitement about the Twitter hour that you are sponsoring.
Promote the fact that you are sponsoring Twitter hour across all your social media channels, your website, and through influencers or partners who may join the conversation.
Encourage your team and business network to spread the word to maximise participation during your sponsored Twitter hour.
If your Twitter Hour gets very busy with lots of participants, it's very easy to get overwhelmed.
One way to lessen the workload of a Twitter Hour is by prescheduling your tweets.
This can be done through platforms such as Tweetdeck, Buffer or Hootsuite. (Tweetdeck is now a Twitter Blue subscriber only platform)
4. Engage With Participants
Throughout the Twitter hour, actively interact with participants.
This can be through responding to their tweets, retweeting insightful contributions, and asking thought-provoking questions.
Engaging with other participants like this will help build stronger connections with your audience.
A great way to effectively engage with participants is through images. A picture tells a thousand words and given the limited character count, (currently 280 characters), it's essential to find other ways to quickly communicate your message.
Canva.com is a great option for creating image based twitter posts that you can easily post throughout your sponsored Twitter Hour.
Canva Pro (a paid subscription) also has a scheduling tool allowing you to focus on engaging fully with your Twitter hour participants.
5. Monitor And Measure
Know your stats.
Keep track of your metrics and insights gained during the Twitter hour and analyse them after.
Evaluate the success of your sponsored Twitter hour, by comparing your chosen key performance indicators (KPIs) with your results.
Points to look at could include the number of tweets posted during the hour, the number of new followers gained, the reach of your business or the impressions that your page received.
6. Follow Up After The Event
Your work doesn't end once the 60 minutes is up.
Take the momentum created during the Twitter hour and continue the conversation beyond by responding to any additional feedback, sharing valuable insights, or summarising the highlights in a blog post or follow-up tweet.
Doing so helps prolong your campaign's impact and strengthens your relationship with participants from the Twitter hour.
7. Learn From The Experience
What worked well?
What would you do differently next time?
Analysing the data and feedback gathered to identify what worked well is essential to refining your approach and achieving better results.
8. Be Authentic and Transparent
Nobody wants fake news.
Your participants appreciate authenticity, so make sure your engagement during the Twitter hour feels genuine and not overly promotional.
Avoid misleading or spammy tweets, as they can harm your reputation.
9. Build Relationships
Being the sponsor of a Twitter hour puts you in a great position to network with a variety of other businesses.
Take advantage of the opportunity to build relationships with influencers, participants, and other stakeholders in your industry.
You never know where those connections may lead.
10. Be Consistent
Your Twitter hour was successful!
Congrats!
Now that you found a winning formula, consider making it a regular event.
Consistency helps build anticipation by establishing a sense of community around your brand.
There you have it.
Our top ten takeaways from our experience sponsoring the Twitter hour 'Belfast Hour'. 
Having been established over a decade ago, Twitter Hours are a staple of modern business online networking. It's worth looking into sponsoring one if you want to see your business grow. And with #BelfastHour's long-term sponsor @Edwards&Co moving on, now is a great chance to get your business in front of lots of local small businesses. 
As effective as a Twitter hour can be for your business goals, remember that sponsoring a Twitter hour is just one element of your social media strategy.  Sponsoring a Twitter hour should align with your broader marketing objectives and complement your overall digital presence.
Through learning from each experience and continuously refining your approach, you can make the most of Twitter hours and other social media initiatives to grow your brand and engage with your audience effectively.
So what are you waiting for?
Go and get your business involved in the next Twitter hour.
And let us know how it goes!
About Mallusk Enterprise Park: Mallusk Enterprise Park is an innovative Enterprise Agency located in Newtownabbey. The Organisation supports businesses to start up and grow within Antrim and Newtownabbey.  They offer a wide range of services including but not limited to office administration services, conference facilities,  meeting rooms, mentoring, Business advice and consultancy, Business networking events and workshops. To help you decide on the ideal room set-up for your business needs within the Mallusk Enterprise Organisation, you can visit their website below:
About Mallusk Enterprise Hub – Mallusk Enterprise Hub is an innovate enterprise agency offering collaborative space and conference facilities. Included is a standalone social enterprise coffee shop, catering for the continuing growth in the area, as well as a break-out space for people using the hub. To learn all about the business support and resources available within the Mallusk Enterprise Organisation, you can visit their website below: